Hurricane Names
Today I learned that, after Hurricane Sally, the next named hurricane will be named Teddy. Hurricane Teddy? And to make matters worse, the two after that will be named Hurricane Vicky and Hurricane Wilfred. Here is the official list of hurricane names. https://geology.com/hurricanes/hurricane-names.shtml
With all due respect to people named Teddy, Vicky and Wilfred, I don't think those are appropriate names for a hurricane. If Hurricane Teddy ends up being a destructive hurricane, the name itself will prevent people from taking it seriously. Who is going to evacuate in the face of Hurricane Teddy?
I think hurricanes should be named after supervillains. If you head that Hurricane Apocalypse (Apocalypse was a fictional supervillain appearing in comic books published by Marvel Comics) was heading your way, I bet you would take that threat seriously.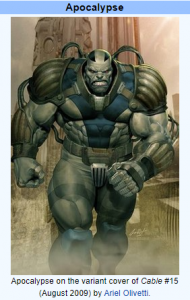 But Hurricane Teddy? Hurricane Wilfred? I bet you'd take your chances and try to ride it out.