Liquid Death – Good Branding or Good Marketing?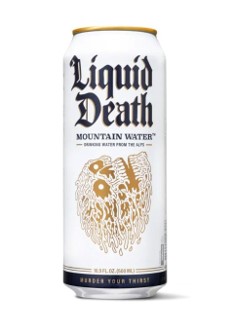 Let's get this out of the way. Liquid Death is just water sold in beer cans. OK, now they are moving into flavors and fizzy water, but the brand was built on "mountain water in a beer can."
So how do you explain their success (they recently closed another round of fundraising bringing its valuation to $700 million)? Is it the Branding or the Marketing behind the Branding?
Its latest investor, Peter Pham, seems to credit the name as he wrote in a Medium post that "Like Tesla moved drivers toward better-for-the-planet EVs through a great product and brand that became part of culture," Pham wrote, "Liquid Death is moving people toward healthier and sustainable drinking options, not by preaching to them, but by entertaining them and making them a part of something bigger in culture."
Others have credited the unique packaging and subversive marketing which has used bizarre ads (e.g., Martha Stewart Severed Hand https://liquiddeath.com/pages/martha) and Twitter influencers to define the brand as fast growing and a true disruptor in the non-alcoholic beverage market.
The way I make the call is to look at one without the other. If Liquid Death was on the shelf without the marketing would it work? Probably not. If the marketing was used to sell another brand of water in a beer can would it work? Probably, depending upon the name. So my conclusion would be the marketing is the hero, and the brand was the platform that enabled the success. Together they obviously are a great success. But in my opinion, the Liquid Death name is not the lynchpin as any of a number of names would have worked just as well with that fantastic marketing.