Worst Line Extension Name Ever?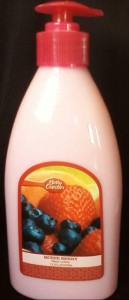 Betty Crocker Lotion. Need I say more? This product is insane on two levels.
First of all, the person at General Mills who allowed a license to use the Betty Crocker name on a lotion product should be fired. Why would you risk the damage to a great brand name that has been used since 1921 in products that create "…convenient, delicious meals and easy-to-make, great-tasting desserts" (from the General Mills website)?
Second, the company that licensed the name Betty Crocker for use on a lotion should be forced to sit through a week of focus groups with American women evaluating this idea. I can assure you that the result of every focus group will be a brutal assessment that will be quite painful to watch.
Sometimes name development produces brand names that are subject to interpretation, but in this case, the name is so bad that the results can be predicted with near certainty. Betty Crocker Lotion is being sold in dollar stores most likely as a way to get rid of excess product that did not sell at retail.